Howard's Second Great-Grandparents
John R. Balch and Sophia Stone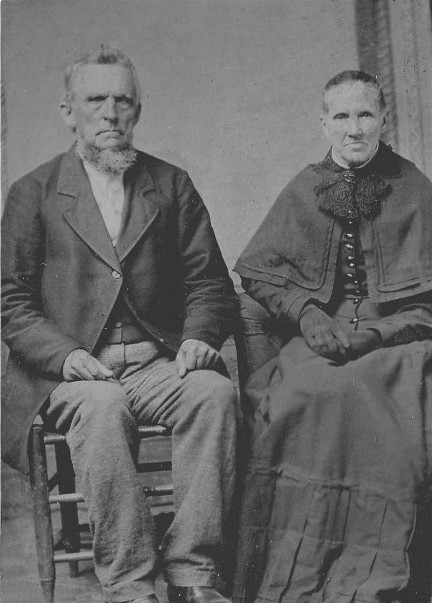 John R. Balch was born October 11, 1810, in Tennessee and died July 30, 1892 in Gallatin, Sumner County, Tennessee. He married Sophia Stone January 17, 1833 in Sumner County, TN, daughter of Nicholas Stone and Elizabeth Loving. She was born August 06, 1814 in Gallatin, TN, and died September 05, 1885 in Gallatin, TN. Both are buried in the Stone-Baulch Cemetery, Sumner County, Tennessee.
For decades nothing was known about John R. Balch's parents, and he was my most frustrating "brick wall." In the 1880 Census he reported that his father was from Scotland and his mother was from Ireland but there is no corroborating evidence for that. My father and uncles (James H. Baulch, Ernest F. Baulch, and Nelson H. Baulch) told us that the Baulch family came from Germany originally, but I could find no evidence to support that.
Gene Edward Balch, a 12th generation descendant of John Balch (1631-1690) who settled in Lord Baltimore's Maryland Colony in 1658, has researched the Balch family for over forty years. He postulated "that John R. Balch may be one and the same as young John Balch, son of William & Rebecca, of Sparta, White County, Tennessee. This John Balch was born about 1805 and disappeared from the campsite during a trip with his two brothers, William and Hezekiah, and his mother in about 1829." Passed down in our family was a somewhat similar story from John R. Balch saying he came to Sumner County when he had run away from home and that his sister had lost her wedding dress when crossing the Green River.
With no evidence to support this speculation, I submitted a DNA sample to Family Tree DNA in 2006 and had few Y-DNA matches. Years later, Gene Edward Balch submitted a DNA sample. Gene and I matched on 111 markers with a genetic distance of 3. Of all Balch men participating, he is my closest match. The Balch DNA project coordinator, Gene Edward Balch and I believe that our y-DNA testing strongly supports this family connection:
............. 4 John Balch b. 23 Jan. 1716 St. George's Parish, Harford Co., MD d: aft. 27 Nov. 1790 in Mecklenburg Co., NC
.................. 5 William Balch b. 1762 in Harford Co., MD d: 1827 in Sparta, White Co., TN
........................ 6 Hezekiah Balch b: 1811 in Sparta, White Co., TN d: 24 Jul., 1873 in Madison Co., AL
............................. 7 William McKinny Balch b. 12 Dec. 1841 in Madison Co., AL d: 7 Feb. 1914 in Madion Co., AL
.................................. 8 Edward Hezekiah Balch b: 26 Jul. 1873 in Madison Co., AL d: 6 Mar 1955 in Decatur, AL
....................................... 9 Lawrence Fielding Balch b: 24 Oct. 1904 in Decatur, AL d: 22 Oct. 1958 Elaine, AR
............................................. 10 Kit 163917 (Gene Edward Balch)
........................ 6 John R. Balch b: 1810 in TN (married Sophia Stone)
............................. 7 William Nicholas Baulch b: 1837 in Sumner Co., TN
.................................. 8 George Nelson Baulch b: 1870 in Sumner Co., TN
....................................... 9 James Homer Baulch b: 1915 in Sumner Co., TN d: 1992
............................................. 10 Kit 69546 (Howard Stone Baulch)

Y-DNA testing took a speculation from a similarity of family stories to a strong probability. However, I still felt that I needed more proof that my John R. Balch was the John who disappeared in 1829 from William and Rebecca Balch of Sparta. In 2016 I did autosomal DNA testing.

My initial autosomal DNA results showed that I was predicted to be the 2nd to 5th cousin of ten persons in the Family Tree DNA database with Balch known to be in their ancestry line. To date I have confirmed that seven of the 10 persons descend from descendants of William and Rebecca Balch of Sparta, as documented by Dr. Galusha B. Balch in his 1897 work, "Genealogy of the Balch Families in America". My research will continue, but I am now convinced that these results coupled with my Y-DNA results with Gene Edward Balch confirm that our years of speculation are over.

The following sources were useful in providing valuable information for John R. Balch and his wife, Sophia Stone:
1840 Federal Census of Sumner County, TN -

Free White Males: one under age 5, one age 5-10, one age 30-40 (this would be John and sons William Nicholas and Alfred Nelson, although both sons were under the age of five at the time of the census)
Free While Females: one under age 5, one age 5-10, one age 10-15, one age 30-40 (this would be Sophia and daughters Mary Catherine and Elizabeth F., although both daughters were between 5-10 at the time of the census; it is not known who the person age 10-15 might have been)
No Free Colored Persons recorded; No Slaves recorded.

1850 Federal Census of Sumner County, TN -

District 11, Page 280 lists John as the head of household number 44. The ages for Susan Eliza, Martha, and Nancy appear incorrect in this census. According to later census data and the John R. Baulch Family Bible, at this point in time, they were 5, 3, and 2, respectively.

1860 Federal Census of Sumner County, TN -

District 11 lists John as the head of household number 99.

1870 Federal Census of Sumner County, TN -

District 11, page 728 lists John as head of household number 106.
The age for Susan appears incorrect in this census. She would have been 25 at this time.
Robert Higgason (misspelled as Hickison in this census) came to live with the Baulch family some time after his father, John W. Higgason, was killed in the Civil War in 1864. Siblings Sarah and Fountain were taken in by the William Nicholas Baulch family (household 108).
Son Alfred is recorded in household 107.

1878 map of District 9, Sumner County, TN identifies the properties of J. Baulch (John Baulch) and A. Baulch (Alfred Baulch) on Douglass Pike.

1880 Federal Census of Sumner County, TN -

District 9, page 133D lists John as head of household number 104.
John Balch listed his birthplace as Tennessee; in the prior listed household, Alfred Balch listed his father, John's, birthplace as Kentucky.
Suffia Balch is Sophia Stone Balch.
Susus E. Balch is Susan E. Balch. In this census her health condition is listed as "paralized."
Jane Lindsay is Matilda Jane Balch Lindsay. Her husband, William H. Lindsay, is not listed in the 1880 Census for Sumner County, but Jane Lindsay listed her marital status as "Married" and not "Widowed" or "Divorced".
The ages of Susan and Matilda Jane are reversed.

Tombstone of John R. Baulch, Stone-Baulch Family Cemetery, Sumner County, TN
Tombstone of Sophia Stone Baulch, Stone-Baulch Family Cemetery, Sumner County, TN
Return to Howard Stone Baulch Family Home Page